NEWS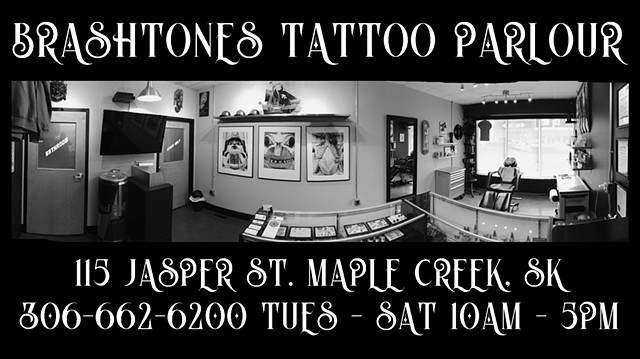 FIRST OFF WE WOULD LIKE TO GIVE THANKS TO THOSE OF YOU WHOM HAVE SUPPORTED US OVER THE PAST 4 YEARS. AS WE HEAD INTO OUR 5TH YEAR WE ARE MAKING SOME CHANGES THAT WE THINK YOU SHOULD BE AWARE OF AND THAT WE HOPE WILL ADD TO THE SUCCESS OF OUR BUSINESS.
NEW HOURS
TUESDAY - SATURDAY
10AM - 5PM
SUNDAY, MONDAY, HOLIDAYS, AND MOST LONG WEEKENDS
CLOSED
AFTER WORKING SUNDAYS FOR THE PAST 11 YEARS, I WANT TO SPEND THEM AT HOME WITH MY WIFE AND 4 CHILDREN. ON THE RARE OCCASION, I MAY MAKE AN EXCEPTION TO THIS, BUT I WILL ASSESS THIS ON A CASE BY CASE BASIS AND ONLY FOR LARGE WORK.
AGE RESTRICTION
THE SHOP IS NOW 18+ FOR ALL SERVICES WITH THE EXCEPTION OF LOBES FOR YOUNGSTERS (AGE 6+). NO ONE UNDER 18 WILL BE ALLOWED IN THE SHOP UNLESS THEY HAVE BEEN GIVEN SPECIAL PERMISSION BY THE OWNER PRIOR TO THEM ENTERING THE SHOP. PLEASE FIND A SITTER AS YOUR CHILDREN WILL NOT BE ALLOWED TO ENTER THE SHOP. VALID GOVERNMENT ISSUED ID MUST BE SHOWN AT THE TIME OF YOUR APPOINTMENT OR YOU WILL LOSE YOUR DEPOSIT FOR WASTED TIME. NO EXCEPTIONS! FOR LOBES ON MINORS BOTH PARENTS OR LEGAL GUARDIANS MUST BE PRESENT WITH VALID GOVERNMENT ID OR WE WILL NOT DO IT.
PRICING
TATTOOS - $140/HOUR ROUNDED BY THE 1/2 HOUR
MINIMUM CHARGE $140
DRAWING FOR YOUR APPOINTMENT - FREE W/ DEPOSIT
RE-DRAW FEE - $80/HOUR
TATTOO TOUCH-UPS - SET-UP FEE - $40
AS ALWAYS, IF YOU PURCHASE AFTERCARE AND FOLLOW YOUR INSTRUCTIONS (WE WILL KNOW), YOU WILL ONLY HAVE TO PAY THE SET-UP FEE. IF HOWEVER YOU DO NOT PURCHASE AFTERCARE NOR FOLLOW IT, THE REGULAR HOURLY RATE APPLIES. NO EXCEPTIONS! THIS HAS NOT CHANGED SINCE THE SHOP OPENED IN 2015, BUT SOMEHOW IT IS ALWAYS OVER LOOKED.
PIERCINGS - RANGE FROM $40 - $100
(THIS DOES NOT INCLUDE BODY JEWELRY WHICH RANGES FROM $15+)
AFTERCARE - $15+
DEPOSITS
NON-REFUNDABLE DEPOSITS ARE REQUIRED FOR ALL APPOINTMENTS!
TATTOOS
ALL TATTOOS ARE NOW 18+ AND A NON-REFUNDABLE DEPOSIT IS REQUIRED TO BOOK ALL APPOINTMENTS.
THERE IS AN ADDITIONAL FEE FOR AFTER CARE. DEPOSITS VARY FROM $100 AND UP DEPENDING ON HOW MUCH TIME YOU BOOK.
LARGER WORK LIKE SLEEVES AND BACKS WILL REQUIRE LARGER DEPOSITS. IN THE CASE OF A HALF DAY, YOU WILL BE CHARGED A MINIMUM OF 3 HOURS REGARDLESS OF HOW LONG YOU SIT. IN THE CASE OF A FULL DAY, YOU WILL BE CHARGED A MINIMUM OF 5 HOURS REGARDLESS OF HOW LONG YOU SIT. NO SHOWS WILL LOSE THEIR DEPOSIT AND WILL HAVE TO PAY A CANCELLATION FEE DEPENDING ON THE TIME THEY HAD BOOKED IN THE AMOUNT OF $200 FOR HALF DAYS AND $400 FOR FULL DAYS IN ORDER TO REBOOK ALONG WITH A NEW DEPOSIT. DO NOT BOOK MORE TIME THAN YOU CAN HANDLE.
PIERCING
$50 DEPOSIT REQUIRED TO BOOK.
PAYMENTS TAKEN
**PLEASE NOTE THAT YOU DO NOT HAVE AN APPOINTMENT UNTIL A DEPOSIT IS RECEIVED**
ONLINE BOOKING - ETRANSFERS CAN BE SENT TO INFO@BRASHTONES.CA
IN THE SHOP - CASH OR CREDIT ONLY! NO EXCEPTIONS.
13 WAYS TO AVOID LOSING YOUR DEPOSIT AND ENCOURING EXTRA FEES
WE UNDERSTAND THAT LIFE GETS CRAZY SOMETIMES, BUT THERE ARE WAYS YOU CAN AVOID LOSING YOUR DEPOSIT.
1. HAVE VALID GOVERNMENT ID ON YOU.
2. GIVE 72 HOURS NOTICE IF YOU NEED TO REBOOK.
3. SHOW UP FOR YOUR APPOINTMENT.
4. BE EARLY RATHER THAN LATE FOR YOUR APPOINTMENT.
5. SHOW UP SOBER. DO NOT DRINK, OR DO DRUGS 24 HOURS
BEFORE YOUR APPOINTMENT.
6. COME WELL GROOMED, HAVE A SHOWER, AND DO NOT STINK.
7. KNOW WHAT YOU WANT WHEN YOU BOOK TO AVOID REDRAWS.
8. EXCESSIVELY HAIRY? PLEASE USE CLIPPERS BEFORE YOUR
APPOINTMENT.
9. USE SUNSCREEN TO AVOID BURNS.
10. DO NOT USE BRONZER.
11. GET A SITTER.
12. REBOOK IF YOU ARE SICK.
13. DO NOT BOOK IF YOU ARE ON BLOOD THINNERS, PREGNANT OR
BREAST FEEDING.