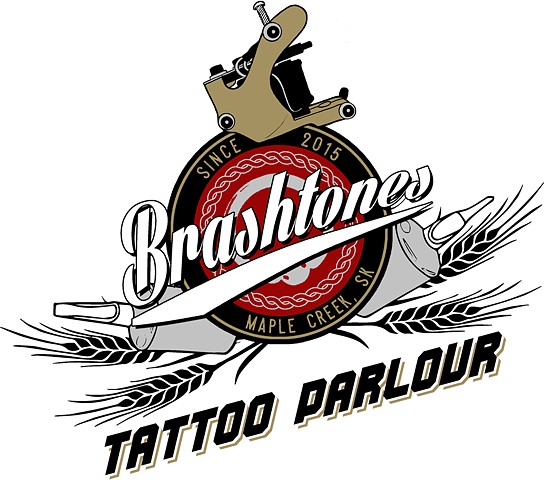 WELCOME TO BRASHTONES TATTOO PARLOUR EST. 2015
OUR FOCUS IS TO BREAK THE IMAGE OF THE STEREOTYPICAL TATTOO PARLOUR, WHILE STILL REMAINING TRUE TO THE ROOTS OF A TRADITIONAL TATTOO SHOP. WE ARE A BLEND OF OLD SCHOOL VALUES COMBINED WITH MODERN DAY SAFETY STANDARDS. HERE AT BRASHTONES OUR MISSION IS TO PROVIDE YOU WITH QUALITY AND ORIGINAL TATTOO ART, PRODUCED IN A COMFORTABLE AND SAFE ENVIRONMENT BY PROFESSIONALS.
OUR TATTOO PARLOUR IS A SANCTUARY OF CREATIVE SELF-EXPRESSION AND WE HOLD A ZERO-ATTITUDE-POLICY AND RESERVE THE RIGHT TO TURN CLIENTS AWAY THAT DON'T ABIDE TO THAT. EACH CLIENT IS TREATED AS AN INDIVIDUAL WITH INTEGRITY AND RESPECT. WE STRIVE TO BE THE TYPE OF TATTOO SHOP WHERE YOU FEEL COMFORTABLE THE MOMENT YOU WALK THROUGH OUR DOOR.
OUR SHOP PROCEDURES AND GUIDELINES ARE APPROVED AND ADMINISTERED BY THE SASKATCHEWAN HEALTH AUTHORITY.
WE ONLY USE THE HIGHEST QUALITY NEEDLES, INK, OINTMENTS, GLOVES AND SURFACE COVERINGS WHICH ARE ALL ONE-TIME USE DISPOSABLE PRODUCTS.
WHEN YOU COME BY OUR SHOP FEEL FREE TO ASK FOR A TOUR AND WE CAN GO OVER OUR PROCEDURES WITH YOU!
WE HAVE A SMALL MERCHANDISE SECTION IN OUR SHOP WHERE WE PROVIDE THE COMMUNITY WITH SHOP APPAREL, BEARD CARE AND BODY JEWELRY.
WE LOOK FORWARD TO SEEING YOU SOON!
WE ARE LOCATED IN MAPLE CREEK AT 115 JASPER STREET (THE OLD CREDIT UNION BUILDING) IN MAPLE CREEK, SASKATCHEWAN.